There's nothing more creepy, yet simultaneously intriguing, like an abandoned theme park. Instead of smiling children, you see overgrown roller coasters and lonely Ferris wheels with their decaying and peeling paint. Worldwide you can find dozens of disused theme parks that are completely absorbed by nature. Sometimes the reason for the derelict site is a natural or even nuclear disaster, serious accident or bankruptcy. The latter happened to the now abandoned theme park Land van Ooit (Land of Ever) in the Netherlands. I grew up just 15 minutes from there and visited it in its heyday. Recently I went back after a long time and stumbled upon this surreal scene.
What and where is the abandoned theme park Land van Ooit?
You can find the theme park Land van Ooit (Land of Ever) in Drunen close to the must-visit city of Den Bosch, in the south of the Netherlands. I grew up in Oud-Heusden, which is within cycling distance of Drunen. I can still remember when the new amusement park was opened in the late 80s. (Yes dude, I am that old.)
That was quite an event and I found it fascinating. Because how often does a new amusement park open so close to your house? Isn't that the dream of every child?!
Even before the park opened, we noticed a few remarkable things. Like the opening of a new bus stop – at, in my opinion, the most illogical and perilous place. Or the sight of two life-sized giants right across from the road next to the future park. Land van Ooit was supposed to be a true fairy-tale kingdom, specifically aimed at children up to 12 years old.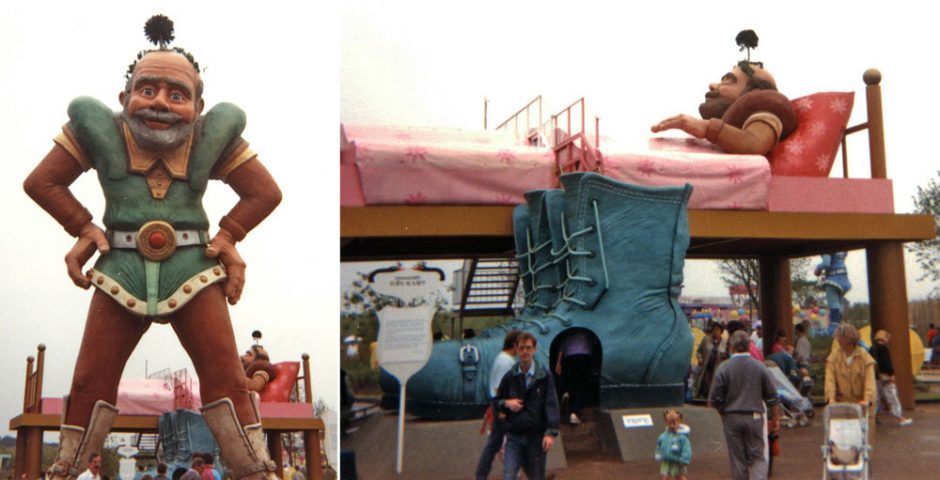 A fairy-tale kingdom with an authentic 13th-century castle!
As soon as you walked through the gates, you found yourself in a true fairy-tale world, full of wonderful characters. With knights, ladies, footmen and aforementioned friendly giants.
This Pink Castle was once one of the park's iconic images. Little remains of the derelict theme park Land van Ooit, but this building is still standing. That's because it's an authentic 13th-century castle and a listed Heritage Building.
What's left of the fairy-tale?
Besides the Pink Castle, the attraction 'The Battle of Waterloo' is the biggest eye-catcher in today's ghost park. The story goes that when Napoleon and his army travelled through the Land of Ooit, they turned into statues. The statues originally stood in a fountain in which you saw the soldiers slowly disappear into the water. Now they make for an eerie sight.
When the park went bankrupt, they sold off the attractions and also demolished most of the buildings. Here and there you will find a graffitied wall or overgrown sign.
Can you visit the abandoned amusement park Land van Ooit?
Yes, you can! You can just walk (or cycle) in for free. But probably not for long.
The theme park closed its doors after a bankruptcy in 2007. The council then bought up the 34-hectare estate, including the castle. With the construction of a new connecting road, it was an attractive piece of land. At least, that's what the council thought. In practice, there appeared to be little interest in purchasing this area with a price tag of at least € 20 million.
After 8 years of fruitless attempts to sell off the land, part of the abandoned theme park was opened to the public again in 2015. It's now possible to cycle and walk through it, or visit for an 'urbex' (urban exploration) photo session.
In the meantime, the council never stopped to try and sell the estate. Over the years I've seen several building proposals, ranging from a new theme park to a hotel. The latest plans I've heard of seen include the construction of a high-tech medical centre, luxury homes and (care) apartments. The castle will also be restored to its original state and will probably be painted white.
It's not yet clear to me when (and if) this construction project will start, but if you still want to see the abandoned theme park Land van Ooit with its Pink Castle with your own eyes, I recommend you to visit quickly!
My personal memories of the park
Although I lived so close-by, I only visited it once during its 17 years of existence. I was slightly too old for this children's theme park. But I did take my 6-year-old nephew there one day (20 years ago already, ¡ay caramba!). I was quite surprised to see how well-known Land van Ooit was among children. Even with my nephew who lived in Friesland, more than 200 kilometers away.
When I sat down in the back of the theatre during a music performance, I saw my nephew and his peers perform the choreography flawlessly while they sang along the songs word for word with the actor. It appeared that almost all children in the Netherlands knew the Land van Ooit from their television programme. From this popular children's TV show, children learned the theatre songs and were introduced to the characters who 'lived' in the park.
And the realisation that my nephew was also well acquainted with the television programme was obvious soon after this theatre visit. Unsuspectingly I became involved in a real chase after my nephew spotted some of his favourite characters in the wild. Thankfully he did not walk so quickly with his short legs at the time, and in the end we managed to catch the eye of the footman and lady so that he could greet them and shake their hand. Of course I was his favourite aunt that day. At least, I was in my imagination. (I often experience strange 'adventures', such as getting lost in Singapore shopping malls.)
"Children are the boss"
With this motto visitors were greeted at the entrance. Really, the person who made this up was probably a sadist. Because, just imagine trying to get a child to eat his vegetables or take a shower after having visited the theme park without constantly having the sentence Children are the boss thrown back at you…
From fairy-tale park to ghost park
As mentioned, I have witnessed the opening of the Land van Ooit up close. I can still remember I found it quite strange that a whole new family theme park was being built less than 20 kilometres away from the Efteling. After all, Efteling is one of the oldest, largest and best-known theme parks in the Netherlands. How on earth could you compete against this?
It turned out that the Land van Ooit was founded by a former director of Efteling, Marc Taminiau. But unlike Efteling, Land van Ooit focussed on theatre and not so much on attractions. Theatre for children, specifically for the very young ones.
Despite Taminiau's many attempts, he still failed to make his theatrical fairy-tale park a success. It turned out that the intended target group was too limited. But they also simply couldn't compete with their "big brother" the Efteling. And so, after about 17 years, the Land van Ooit closed its doors for good and grew into a true ghost park.
Do you know of an abandoned theme park or have you ever visited one?
Let me know in a comment below!
Thanks, Zarina xx
Save this article about the abandoned theme park Land van Ooit for later!