Thanks to its compact city centre, one day in Bath is enough to see the top attractions in this gorgeous World Heritage city. Use this handy 1-day Bath itinerary to find the best things to do and see in Bath, England. From the 2,000-year-old Roman Baths to grand architecture and charming cobbled lanes, here are 12 reasons for visiting Bath, one of the prettiest cities in England.
This article contains affiliate links. Please refer to my Disclaimer page to learn more about this.
Go straight to:
1. Bath itinerary: the 12 best things to do and see in Bath
2. Know before you go: travel essentials for your day trip to Bath
Oh! Who can be ever tired of Bath?"

Jane Austen, Northanger Abbey
Memoirs of one day in Bath, England
The lovely city of Bath is famous for its elegant tearooms and cosy cafés. Indulging in delightful treats, their ravenous guests come here to relive the city's Golden Age. The era when, after centuries of decay, Bath had flourished into a fashionable city break destination.
Becoming a popular spa resort amongst socialites in the 18th century, the fabulous Georgian architecture of the time remains one of the main draws of this UNESCO World Heritage Site.
Yet, here I am.
Sat on a bench in the city's most touristy street, devouring a cheap baguette and getting most of its contents on my face.
I spent the morning sightseeing in Bath and was too famished to venture to a sophisticated café for a graceful lunch like a proper grown-up.
Instead, I grabbed a convenient takeaway lunch from the bakery just outside the Roman Baths. Suspicious of it being an evident tourist trap, I'm pleasantly surprised by the quality of my freshly grilled Mediterranean vegetable roll.
While I wipe the hummus off my chin, a wildly overdressed man across the street catches my eye. Distracted by his top hat and 19th-century black tailcoat with its gold-coloured buttons shimmering in the sunlight, it takes me a moment to notice the sign he's holding in his hand. 'Free Jane Austen walking tours' it says.
Ah, yes, of course.
Jane Austen, one of the most famous British novelists of all time, lived in Bath for a few years during its heyday. Soaking up the atmosphere of the vibrant early 19th-century Bath, the city would inspire her to write her two novels Persuasion and Northanger Abbey.
Curious to learn what made this city so special to her and her contemporaries?
Then use the tips in this itinerary for your perfect day in Bath, one of the most beautiful places in England.
How to spend one day in Bath: the 12 best things to do and see in Bath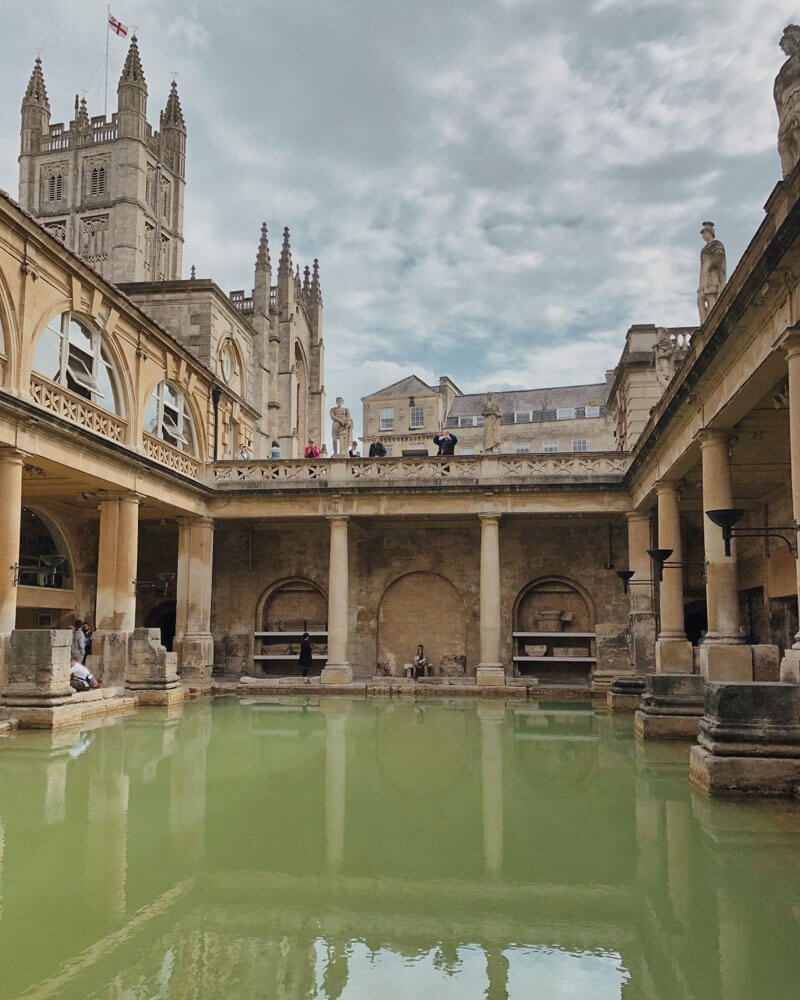 1. Your Bath itinerary starts at the Roman Baths
Ever wondered about the origins of certain curious place names?
Beer. Ham. Sandwich.
Not quoting some local caf's lunch menu here. (Sorry if it made you hungry). But did you know that these are all actual places in England?
Bath fits perfectly in this list. That's not me suggesting that you should have your beer and ham sandwich in bath. (Not stopping you if you want though.)
It's just my convoluted way to point out that Bath is a rather strange name for a city. Or is it? Because, you see, long before it was the gorgeous city it is today, the Romans actually founded Bath as a bath and spa complex.
They built the expansive baths and sauna rooms right on top of the bubbling hot springs. But to them, the thermal pools were more than a sanatorium. It was actually a sacred place. That's why the Romans also built a temple next to the baths which they dedicated to the Celtic-Roman goddess Minerva Sulis whom they believed to be the mystical source of the hot springs.
For the next centuries, Bath remained a popular spa retreat, ever attracting visitors to its healing mineral springs. Yet, the original Roman Baths had to give way for more modern buildings.
Buried underground for years, the baths were eventually excavated and restored in the 1970s and are now open to the public. You can explore the baths either on a guided tour or self-guided audio tour.
For me, the Roman Baths were the main reason for visiting Bath. As a lover of ancient cultures, I've wanted to see the baths so badly after first hearing about them over twenty years ago.
Yet, despite ending up living in England, for some reason I just never made the effort. I guess I expected the entire city to be packed with tourists which would obviously make my long-anticipated trip to Bath far from enjoyable. But I was dead wrong about this as it wasn't nearly as busy as I expected. And that was in August, peak season. So, don't be a Miss Travel Clogs and do make a day trip to Bath.
You won't be disappointed. Pinky promise.
Want to learn more about the Roman Baths and what to expect from your visit? Then head over to my full article about the Roman Baths.
2. Must-do in Bath: climb the Bath Abbey Tower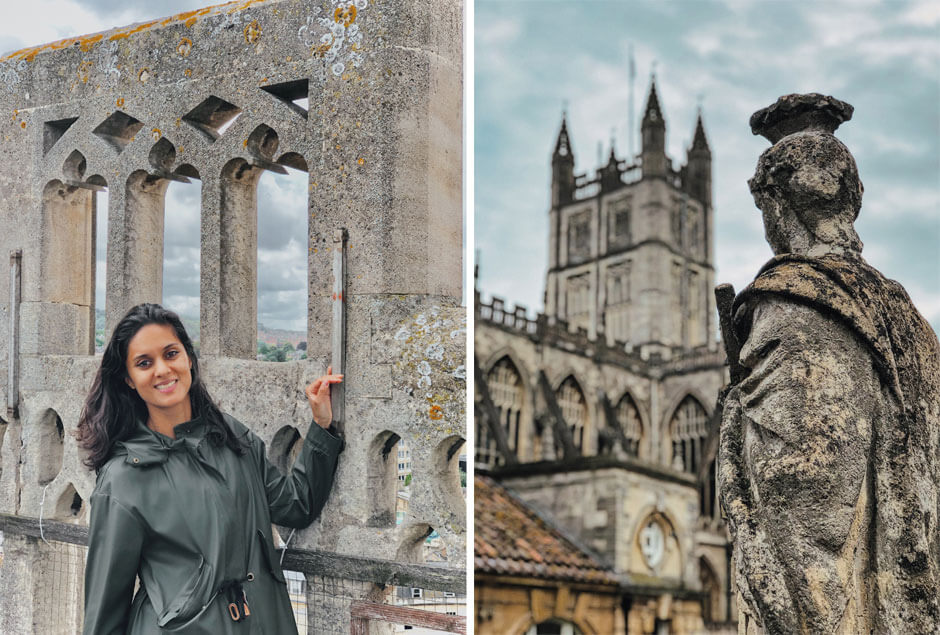 The second must-visit tourist attraction in Bath is the beautiful Bath Abbey. It is conveniently located next to the Roman Baths so you won't have to walk too far after you've ticked off the first item of your Bath itinerary.
You can enter the abbey for free and admire the gorgeous interior at a casual pace. Or if you're like me and enjoy wearing yourself out (only slightly!), opt for the guided tour instead. When we visited, it only cost £8 per person. It gives you exclusive access to the abbey tower. And it also includes a strenuous climb up 212 steps through a narrow staircase. (She added quietly.)
Hubby was initially less excited about that prospect. But having grown used to what my idea of 'having a good time whilst travelling' is by now, he agreed to my suggestion.
A choice he didn't regret I might add.
The 40-minute long Tower Tour includes several interesting stops on the way to the top. Not only giving you a chance to catch your breath again, these stops also allow entrance to areas that are otherwise off-limits for visitors.
One of the stops I enjoyed most was the hidden room behind the abbey clock. I imagined people in the street looking up at the clock to see the time without realising a small group were sitting right behind the clock face.
Now how often have you sat in a clock tower?
Yeah, that's what I thought!
But the main reward for your mildly strenuous activity awaits at the very top of the tower. From here you'll get to enjoy spectacular views of the myriad of ancient lanes laid out beautifully beneath you and the neighbouring Roman Baths.
3. Have lunch in one of the many pretty tea rooms and cafés in Bath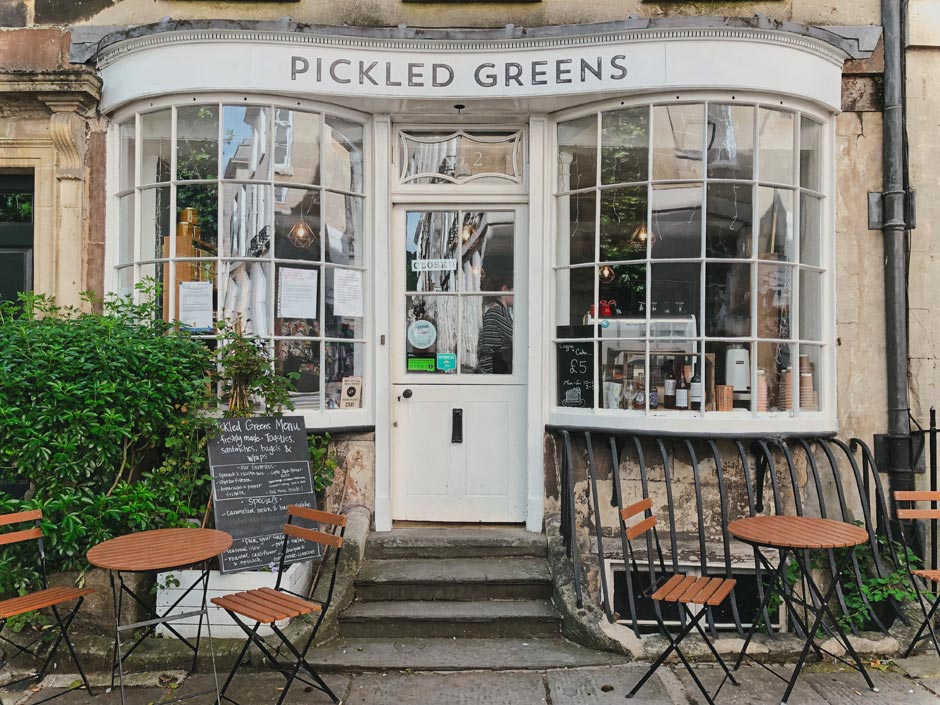 After having visited the top two tourist attractions in Bath, I suspect you'll be craving lunch. I know I was.
There are dozens of lovely places to eat in Bath with plenty of options within walking distance from the Roman Baths and Bath Abbey.
Within a 2-minute walk you'll find Sally Lunn's, the most famous tea house in Bath. Your wobbly legs will thank you for this short walk after the climb to the abbey top.
Established around 1482, this is the oldest remaining house in Bath. Namesake of the historic tea house and museum is Sally Lunn, a Huguenot refugee who worked in the former bakery on these premises. She's forever immortalised by her invention of the world-famous Sally Lunn Bun. (Try saying that out loud ten times in a row.)
Despite the name, this special treat is more like a light French brioche than a bun. The original recipe was passed onto the owners with the deeds for the property. Although there have been attempts all over the world to copy the bun, you'll only get the real deal here.
And if you don't have the energy to walk for 2 minutes, I can assure you that the sandwich shop La Baguette just outside of the Roman Baths (located on 3 Stall Street) does some mean baguettes. You're welcome.
4. Discover Jane Austen's Bath at the Jane Austen Heritage Centre
Feeling energised again, the first stop for the afternoon is the Jane Austen Heritage Centre. Housed in a 270-year-old Georgian townhouse, this museum is yet again one of the top tourist attractions in Bath.
The permanent exhibition gives great insight in the life and work of Jane Austen. Providing the context of Jane Austen's Bath during the Regency era, the guides are actors dressed in dapper costumes whilst they enthusiastically share their extensive knowledge with their visitors. Now, I can guess your burning question. Are any of these actors Mr Darcy lookalikes? Well, you will have to visit to see for yourself!
And while you're at it, I recommend you visit the gift shop too. I managed to contain myself and left with only a few memorabilia and promised myself to re-read the complete Jane Austen box set when I got back home again.
This may or may not have happened by now. (Hey, I did a special course on just Jane Austen at Uni so I think I deserve some kudoz here.)
Save yourself time and buy your ticket for the Jane Austen Heritage Centre online!
5. Explore the museums in Bath
Jane Austen wasn't the only famous female British novelist to live in Bath. Whilst living in a boarding house around 1820, teenager Mary Shelley penned down her Gothic novel Frankenstein in Bath. Perhaps not as charming as Mr Darcy, but the iconic monster she created would equally enthral millions of people all over the world for centuries.
Two hundred years after the publication, this seminal book would even lead to the opening of the Mary Shelley's House of Frankenstein in Bath. Spread over four floors, the house offers an immersive experience leading visitors through ominous rooms filled with curious artefacts.
Other, more traditional, museums and galleries in Bath include the Bath Postal Museum, Fashion Museum and Victoria Art Gallery.
If you're planning on visiting any of the two latter museums, you may want to take advantage of the special Museums Saver ticket. This ticket allows you entrance to the Roman Baths, Fashion Museum and Victoria Art Gallery for a greatly reduced price. You can purchase it directly at any of these three venues.
6. Wander through the historical lanes
Determined to seek out the mesh of historical lanes I spotted from atop the abbey tower in the morning, Hubby and I left the tourist attractions in Bath behind us for a moment.
The great thing is that you don't have to ramble far from the main sights in Bath to discover the most alluring hidden corners. Just turn off into some side streets and allow yourself at least an hour to wander through the historical lanes and ancient passageways of Bath.
It's not hard to imagine how around a hundred years ago these picturesque streets were filled with handsomely dressed people in their beautifully cut gowns and high collared waistcoats.
Barely seeing any tourists around, I was again surprised at how quiet it really was in Bath. Perhaps I'm more accustomed to the throngs of tourists venturing through the West End of London during holiday season. The relative quietness of Bath did make it a joy to stroll around, whilst soaking up the atmosphere and taking in all the beautiful architecture.
7. Seek out quaint shops
The historical centre of Bath is home to numerous fabulous shops. Just window shopping alone is a real delight in this pretty British city. As a lover of vintage maps, I was especially attracted by The Antique Map Shop which you'll find on Pulteney Bridge.
As you'd expect from a city that oozes sheer elegance and sophistication, there are various marvellous book shops in Bath that will keep any booklover entertained for hours at end. My absolute favourite was Topping & Company Booksellers.
With its inviting atmosphere, cosy reading nooks and genuinely helpful staff, I found myself in literary bliss. Struggling to say goodbye to the beautiful books I'll never get to read, we eventually continued our explorations of Bath.
8. Visit The Circus
Not as exciting as acrobats flying across the air, but The Circus in Bath is still a sight not to be missed. Derived from the Latin word circus meaning 'circle' in English, The Circus refers to a ring of grand historic townhouses in Bath.
Built in the mid-18th century, these curiously curved large Georgian houses make for a perfect romantic backdrop. It's no surprise that The Circus is one of the top Instagram spots in Bath today.
9. Marvel at the Royal Crescent
I don't know where this particular fascination with curved streets in Bath comes from, but at less than five minutes from The Circus, you'll find another striking row of houses. This time they're laid out in a semicircular shape rather than a near perfect circle.
The 152m-long Royal Crescent is a row of 30 terraced Georgian houses and Grade I listed buildings. Looking out onto a large park, the Royal Crescent is one of the most iconic landmarks in Bath. You might even recognise it from the many films and period dramas it has featured in, including Jane Austen's Persuasion.
I do like the sight of such arched streets, also called 'crescents' (meaning sickle-shaped, like a moon). I've seen many of them whilst wandering through London's posh areas. They're typically affluent residential streets lined with imposing homes ordinary people like you and I could only dream of living in.
Curious to see what these stunning houses look like from the inside? Then take the opportunity to visit No. 1 Royal Crescent. This former private residence now functions as a museum about Georgian Bath. It's a great opportunity to learn more about this prosperous period and get a taste of what it must have been like to be a socialite during the Regency era.
For the most of us, this will be a more affordable option than the luxury 5-star Royal Crescent Hotel & Spa just a few metres away.
10. Admire Pulteney Bridge
Nearing the end of our one day in Bath, we're slowly weaving back towards the train station. Taking a slightly different route, passing the Fashion Museum, make your way to the river Avon. There's just one more must-see landmark to tick off your Bath itinerary: Pulteney Bridge.
This striking stone bridge was built around the 1760s. It is only one of the four remaining bridges in the world to have shops on them. The aforementioned antique map shop being one of them.
However, the most eye-catching feature isn't physically part of the bridge but is actually in the water. It's the horse-shaped weir (a low dam) near the bridge that makes this popular attraction in Bath such a picture-perfect sight.
Hop on this short cruise on the river Avon and see the picturesque Pulteney Bridge from a unique vantage point!
11. Parks and recreation
Having crossed Pulteney Bridge, follow the river southwards and enjoy the glorious city views from across the water.
There's always something special about cities that have a river flowing through its centre. Forming the life and heart of a place, walks along the riverbank are often so soothing. It's like life moves slightly slower here.
From across the river Hubby and I caught amazing views of the lovely Parade Gardens. Eager to visit this beautiful looking park, we crossed the river again at the bridge on North Parade.
Outraged about the fact that we needed to pay entrance to visit the park, we decided it wasn't as pretty was we imagined after all (it still was though), clicked our heels and turned around.
Fortunately, Bath is home to plenty of free parks and gardens. The Royal Victoria Park being a good example.
Opened in 1830 by Queen Victoria herself, this gorgeous 57-acre park offers plenty of activities for children. It's therefore a perfect destination in Bath for families.
One of the best spots in the park are the enchanting Botanical Gardens. Here you'll enjoy some of the most idyllic sights in Bath.
12. Traverse the Bath Skyline Walk
Depending on how much time you have left, you may want to grab some dinner in Bath now. Or you may even make your way back home.
But if you have some time left you could end your one day in Bath itinerary with (part of) the Bath Skyline Walk. This 3-mile circular walk from Bath centre leads you to the most breath-taking views such as Sham Castle, pristine woodlands and picturesque vales.
Take the opportunity to catch exceptional city views of Bath, whilst being surrounded by romantic landscapes and beautiful wildlife.
Could there be a possibly better way than to end your day trip to Bath? No, I wouldn't think so either.
I really believe I shall always be talking of Bath, when I am at home again – I do like it so very much…."

Jane Austen
Know before you go: how to prepare your day trip to Bath, England
Where is Bath? | Bath is located in South West England. It lies perched on the river Avon in the county of Somerset. The city lies at the edge of the Cotswolds. This area is famous for its idyllic towns and rolling green hills, making it a popular UK road trip destination.

Travel | It's very easy to reach Bath by train. From London Paddington it takes 1.5 hours to Bath. From the bustling city of Bristol (also a must-visit!) it's only a 15- minute train ride to Bath. Find the exact train schedules and tickets on Trainline, the most popular train website in the UK. Alternatively, drive to Bath with your comfortable hire car from Rentalcars.com.

Accommodation | Want to spend the night in romantic Bath? Check availability and the best prices
here.

Tours | Being a London city guide myself, I often join guided tours when visiting a new city. I believe this is the best way to see the top attractions while learning more insider tips and stories about the place as well. You can choose from various guided city tours in Bath to choose from, including a special Bridgerton film location walk. But there are also bus tours that combine a visit to Bath with Stonehenge and even Windsor Castle so you can see various impressive World Heritage Sites in one day. Click here to find the best Bath guided tours that match your personal interests and budget.

Books | Bath's most famous resident, author Jane Austen, wrote two of her novels in Bath: Northanger Abbey and Persuasion.
Find inspiration for your day trip to Bath with the fantastic travel guides about Bath: Rough Guide and Lonely Planet Pocket.
Like this 1 day Bath itinerary? Pin it for later!